Download C3
Important Note: C³ is not a finished application yet! It should be considered in beta version, meaning it is far from complete and things may not work entirely yet. It may also contain bugs that cause unexpected behavior, including maybe (but hopefully not) crashes of the program.

Download
Brave enough to try it anyway?
Click here to get version 0.1.7 (β) of C³!
This will download a disk image of 3.6 megabytes in size; the MD5 checksum of this download is 013469250434b51660aba1694f825b51. See below for installation instructions.
Refer to the release notes for an idea of what changed in this version.
A Request
If you try out C³, please let the author know about your experiences with it. It will help improve the program and if you contribute anything remotely useful, you'll get your name in the credits!
Previous Versions
| Version | File Size | & Type | Release Date | MD5 Checksum |
| --- | --- | --- | --- | --- |
| C³ 0.1.6 (α) | 2.9 MB | disk image | 21 April 2010 | f5f0797f7fe69809819af6174a852b64 |
| C³ 0.1.5 (α) | 2.8 MB | disk image | 20 April 2010 | 8e6ebc4a1db62683e3570a819dbbde8f |
| C³ 0.1.4 (α) | 2.1 MB | disk image | 12 April 2010 | b553942bc79d6c2596b31a3f7fa7b573 |
| C³ 0.1.3 (α) | 1.3 MB | zip file | 2 April 2010 | cacb7caee66235dd8dd3aaf3fc4b2002 |

System Requirements
C³ requires a computer running Mac OS X version 10.6 (Snow Leopard). According to user reports, it does not work under 10.5 (Leopard), so earlier versions are probably out as well.
Source Code
The source code for the current version 0.1.7 (β) can be downloaded by clicking here. This will download a bzip2-compressed tarball of 2.9 megabytes in size; its MD5-checksum is bd6e9e547c02610be5bdfb975d521bf0.
Source code for earlier versions is not available.
Installation
Mount the disk image (this may happen automatically depending on your web browser) and drag the file C³ that is in it, to the /Applications folder on your computer. After copying, you can unmount the disk image by dragging it to the trash.

You can place C³ in any other folder if you prefer, or run it directly from the disk image. None of this matters for its functioning.
Uninstallation
Drag the C³ icon to the Trash in your Dock to uninstall the application. If you must, you can also remove the files org.‌plasticwarriors.‌C_.‌LSSharedFileList.‌plist and org.‌plasticwarriors.‌C_.‌plist from the Library/‌Preferences folder in your home folder.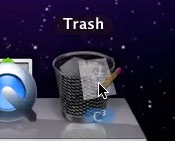 Release Notes & Known Problems
Version 0.1.7
(β)
23 May 2010
Replaced the skeleton help file from version 0.1.4 with a new one that actually contains some (hopefully useful) topics and is in Snow Leopard format; it is far from complete, however.
Improved import of Solaris Skunk Werks files: not perfect yet, but items now display their C³ names instead of the Solaris Skunk Werks internal names and take up their correct amount of slots.
Removed the ability to set the 'Mech's jumping MP directly. Instead, this is now determined by the number of undamaged jump jets on the critical hit table.
Changed save files from a simple, flat file to a package, to allow different types of data to be stored easily (for example, images of the 'Mech as well as its game data in different formats). Refer to the developer documentation for details.
Changed the extension of saved files from

btrs

to

mech

, partly to avoid problems with attempts to open older files, and partly to be able to cater for files with vehicles, infantry, etc. by giving those extensions that fit the unit type (though none of these are implemented yet).
Removed the ability to save files in

btrs

format—C³ is now a viewer for these, not an editor.
Increased the amount of data saved, such as including pilot information, whether a critical slot is damaged and/or rear-mounted, images of the 'Mech, both current and maximum armor values, and current internal structure values.
'Mech and pilot data is now saved in both native format and as XML files in the package.
Added the ability to drag-and-drop images onto the image view on the 'Mech & Warrior Data tab and added buttons to leaf through and delete these images.
Rearranged the 'Mech data section of the 'Mech & Warrior Data tab so there is room for a larger image view for the 'Mech and to indicate the source the 'Mech can be found in.
The Battle Value field can now reflect BV 1.0 and 2.0 as well as the old Combat Value (just in case someone prefers that).
Made a new icon for 'Mech files.
Document is now marked as modified if changes are made to the 'Mech, prompting whether or not the document should be saved when it is closed. This is still a bit overzealous, though, and needs a little more work.
Decided to change release status from alpha to beta.
Fixed a minor bug that caused rear torso hit locations to retain their current color instead of turning to the undamaged color (gray) if the Set Basic Armor Values button was pressed.
Added buttons to cool down the 'Mech (subtract the amount of heat it can dissipate from the total heat generated) and reset the heat scale completely.
Battle Value adjustments for the MechWarrior's skill levels are now applied automatically. If the skill multiplier is not equal to 1.00, the program asks if the user entered the base BV or one that is already adjusted for the MechWarrior's skills.
Improved security against malicious code being inserted into save files by checking that all values in the dictionary are numbers or strings; anything else is treated as suspect and causes C³ to refuse to open the file.
Added menu items to go to C³ web site and to check for new versions of the application; both are in the Help menu.
Rewrote routine to clear & enable slots when an item is removed from the critical hit table.
Moved contents of the separate equipment files into

common.py

to get rid of unnecessary loading routines.
Added a
menu with entries to include a link to a web site for the 'Mech, and go to that web link.
Added MegaMek import.
Changed Solaris Skunk Werks and MegaMek translations dictionaries from files that are executed, to ones that are imported as modules.
Set the order in which users can tab through controls, to replace the automatically-calculated one that caused illogical leaps.
Added a toolbar item to display the remaining armor and internal structure levels (relative to their total maximum values).
Made heat scale indicator in toolbar resize if it becomes narrower than its standard width.
Rearranged standard toolbar layout so the heat scale is on the left, followed by the critical damage indicators and the armor/internal structure status.
Jumping can no longer be selected as movement mode if the 'Mech has no jump capability.
If a critical slot is marked as destroyed in a saved 'Mech, it will also be marked as such when the file is later opened again.
Prettied up the disk image by replacing the background graphic.
Known Problems
After importing a Solaris Skunk Werks or MegaMek file, a manual check of the critical hits table is still needed to make sure it is right because not everything is imported properly yet.
Version 0.1.6
(α)
21 April 2010
This is a bit of an emergency release to fix a bug that made it almost impossible to track the armor on parts of the 'Mech's torso.
Changed the buttons to mirror the armor values to graphical ones, repositioned them, and made them only visible when setting armor maximums.
Fixed the problem that the steppers and text fields for the head, center torso and right torso did not keep each other in sync.
Known Problems
After clicking the Set Basic Armor Values button when the armor of a rear-torso location is 0, that location will display as black instead of turning gray.
Version 0.1.5
(α)
20 April 2010
Split armor and internal structure diagrams from one image each into separate images for each location, allowing different images to be displayed to reflect the location's damage state.
Added images to show the condition of each location:

While the number of armor or internal structure remaining is above two-thirds the basic armor value, the location is white;
With between one-third and two-thirds armor or internal structure remaining, the location is orange;
At or below one-third armor or internal structure remaining, the location is red;
When no armor or internal structure remains, the location turns black.

Added a Set Basic Armor Values button, which allows the user to set the maximum armor values for the 'Mech.
Added arrows to armor diagram to indicate damage transfer, because:
Removed damage transfer diagram to make room for button.
Added push on/push off-buttons to indicate rear-mounted weapons, necessitating making the critical hit slots a bit narrower.
Made the buttons to indicate damage to a critical slot functional: setting them to red removes the damaged item from the weapons inventory or marks off damage to engine gyro, life support or sensors (as appropriate).
Added a toolbar item to display critical hit information.
Window can now be resized, but in height only so that the whole critical hit table can be accessed without scrolling.
The equipment inventory now also shows the amount of ammunition remaining for each weapon.
Removed stepper (up-and-down buttons/spinner) for ammunition, and ability to directly edit the ammunition amount, from the equipment inventory. This because ammunition should be tracked in the 'Mech's critical slots, so you can tell how much damage an explosion of that particular slot will cause.
Critical slots are now automatically emptied if the user selects an item that will not fit in the location.
Added buttons around the attack direction knob to make it easier to select the side the attack comes from.
Known Problems
Build results window in Xcode reports This view is clipping its content. for all the buttons that indicate rear-mounted weapons, but because the contents are perfectly visible, we can live with that.
Calls itself version 0.1.4

(α)

due to forgetting to increase the version number in the

Info.plist

file.
The steppers and text fields for the head, center torso and right torso do not keep each other in sync. This is because of an oversight in assigning tag numbers to controls, and has been fixed in version 0.1.6.
Version 0.1.4
(α)
12 April 2010
Added hit location numbers and attack direction selector to armor diagram, per the 'Mech Hit Location Table.
Changed critical hit table to standard record sheet layout (three columns instead of five) because comboboxes needed to be longer to display names of many items. Because of this, added a scroll view as background to the critical hit table.
Critical hit slots now have a drop-down list with equipment; selecting an item that requires multiple slots (or typing its exact name into the slot's text box) automatically enters the item in the following slots as well and disables those slots; it also adds the item to the inventory on the Pilot & 'Mech Data tab. Removing or changing the item in the top slot clears and re-enables the slots below it and removes the item from the inventory.
Added basic help file.
Known Problems
Scroll bar for the critical hits table always starts at the bottom when it should be at the top.
When adding an item to a critical hit slot, and there is not enough room, the chosen item remains in the first slot; delete it manually by selecting its text and pressing the Delete key.
Ammunition is not displayed in the weapons inventory, and it cannot be typed in by hand either; neither do the arrow buttons to the right of the ammunition display in the inventory work yet.
When opening a saved file, critical hit slots will not be disabled for items that take up more than one slot.
Version 0.1.3
(α)
2 April 2010
First public release, far from complete.
Known Problems
Incomplete features include:
The critical hit table will have to be filled out, or at least completed, by hand.
Solaris Skunk Werks file import is not complete.
Equipment inventory is not functional.
Pilot data is not saved in or loaded from 'Mech file.
There are no record sheets for anything else than BattleMechs.
MegaMek file import has not been implemented yet.